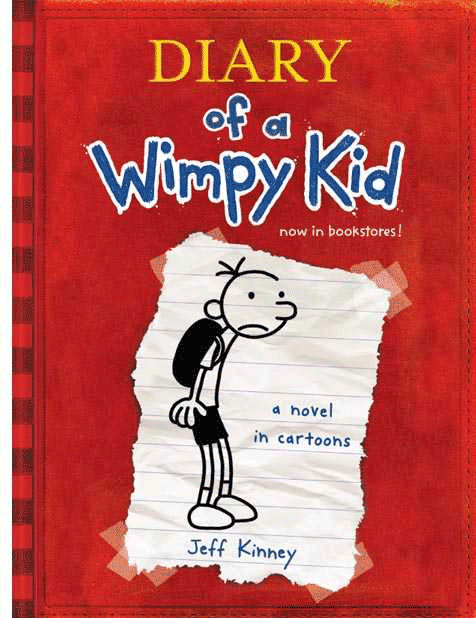 Chances are, if you have any contact with kids who read, they have read
Diary of a Wimpy Kid.
Any school librarian in the English speaking world will handle this bad-boy a lot, but shelve it very rarely. It doesn't even
touch
the shelf at my school. I actually got the chance to sneakily read it during the Easter holidays to see what all the fuss is about.
Firstly, I can see why it's appealing to the 11-15 age group. Greg, wimpy diarist extrordinnaire, is incredibly funny and perfectly captures what it's like to be a put-upon kid in the modern age. Despite being set in America, his plight is pretty universal. Middle child, middle grades, middling friends. His older brother bullies him, his little brother is the apple of his parents' eyes. Greg just wants to get through school in one piece so that he can go on to adult life and become famous. So far we don't know what for, but Greg assures us that that's the reason that he's writing this diary, for historical posterity.
It's the averageness of Greg that makes him so universally appealing- he aimlessly drifts through school being a nobody. He doesn't ask to be top of the class, athletically remarkable or to be popular (well, not super popular anyway, he's still top 100). What he
is
is funny. I'm willing to bet I'm at least twice the target age of this book, but it still made me laugh like a lunatic. I went to school too. The 'cheese touch' lurgy was something that was particularly well written and had the hallmarks of a proper school experience. There's a lurgy, of some form or another, in every school in the world. I'm pretty sure of that. His reference to weekend his lay-ins also made me snort- Greg doesn't
want
to get up on a Saturday, it's merely the foul taste of his own breath that makes him get out of bed.
The cartoons that feature on every page are funny, accurate and tell much of the story. They also flesh out characters in a way that is not reliant on text. It's not a comic, it's not a graphic novel, but it's a heavily illustrated book, which partially explains why even the struggling readers can get on fine with DOAWK. Girls and boys both love this series, so Greg's universal appeal goes beyond gender too. It really is written for anyone who is/was/knows a kid.
Very much recommended to the old and the young, provided you can ever get you hands on a copy.