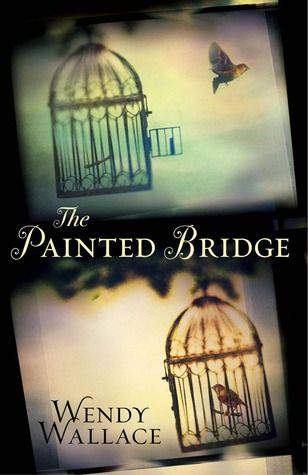 Another month, another Book Club book. Again, this is something that having seen it in a shop or a library, I would never ever have picked up. I read the hardback version, with the caged bird cover. It's pretty standard fare for a book about imprisonment and would have in no way enticed me to read it under normal circumstances.
The book is set in the mid 1800s and opens with an experimental Doctor slash photographer attempting to use this snazzy new medium for diagnostic purposes. Dr. St Clair believes that the camera lens may be able to distinguish mania or insanity in troubled women more easily than the Doctoral eye. Querios Abse, Lake House owner and manager allows him to use his patients for his photographic research. The photographs brighten the somewhat gloomy interior and one must look medically progressive in the mental health field in order to impress the magistrates.
Meanwhile, a wholesome, rural sailor's daughter type arrives at the grand country house with her new husband. He is very much cut from the uptight minister cloth (whiskers, top-hat, frown) the couple do not seem incredibly comfortable with each other. We quickly learn that though Lake House terms itself a "country retreat" for well-off ladies of a nervous or hysterical disposition, it is in fact a private asylum. Anna, the unfortunate wife, finds herself committed to the asylum for her missionary exploits rescuing Welsh sailors from a recent shipwreck- something she felt compelled to do, being from a naval family. Rev. Victor Palmer unceremoniously dumps her into the care of Querios Abse, who is only too happy to oblige. His asylum is experiencing certain financial difficulties lately. Anna remains convinced for a while that there has been some sort of mistake and that husband Reverend Palmer will return to collect her. Or failing that, her sister. She resolves to distance herself from the insane women that she suddenly finds herself forced to live with because she is not one of them.
Personally, I was bored rather quickly by this novel- there wasn't really enough to get your teeth sunk into. The plot is fairly transparent from the beginning (and very well-trodden by Victorian authors too), most of the characters are flimsy and uninspiring (one matron
has
to be cruel and villainous, one
has
to be helpful and kind), most of the other patients felt like interchangeable bit-players. I felt that this book spent too much time trying to make us feel outrage and sympathy for Anna and not enough time establishing an atmosphere or a supporting cast. Some characters appeared to be set up to rise to importance later in the plot, but turned out to have no discernable purpose at all. I found it very difficult to care what happened to any of them, to be honest. Even the presumably horrific 'treatments' that Anna is forced to endure didn't stir up any empathy. Perhaps an implication of torture would have been more effective than merely whizzing through the descriptions of the procedures. Anna barely reacted to them, in thought or in behaviour. Though the book didn't offend me in any actual sense, I certainly wouldn't recommend it.
Our discussion of this novel raised some interesting points about the history of mental illness, the stigma which has always been attached to it and the (perhaps not as advanced as we would like to believe) contemporary means of diagnosis and treatment used today. We also compared the abandonment and the neglect of the women in the novel to modern care homes for the elderly. Whilst this was an interesting discussion, it wasn't something that the book
made
me think of.
I read quite a lot of Victorian literature and very little historical fiction. I think these things are related. For a start, I couldn't help but feel like this novel borrowed a little
too
heavily from one chapter of
The Woman in White.
Lady Glyde (previously Laura Fairlie) finds her identity switched with Anne Catherick and she is committed to an asylum by her dastardly husband under Anne's name. The asylum owners are led to believe that 'Anne' is suffering from a crippling delusion that she is Lady Glyde. Lady Glyde's untimely death is announced publically- though it is the body of the real Anne that lies in her grave. Laura, Lady Glyde is powerless to prove her identity and her sanity. What's done in a couple of pages by Collins is stretched out to novel length here.
I think people are aware, generally, that many women had a fairly tough time in Victorian England. No votes, no property, few employment prospects, very little influence or status. Healthcare and hygiene were rudimental at best- we get it. Personally I'd rather hear about it through the fiction of actual Victorians, but that's just me.
On a related note- if you liked
The Painted Bride
, I would recommend the
Woman in White
, by Wilkie Collins, featuring the non-victim, mustache-faced single-and-doesn't-care Marian Halcombe- my favourite fictional woman of theVictorian Era. Even if you didn't enjoy it- I'd Recommend tWOW anyway. Also, if you want an incredible examination of mental institutions, ostracism and 'the insane' please, please read
One Flew Over the Cuckoo's Nest
, by Ken Kesey. Kesey crafts a thoroughly hellish asylum with one of the sickest and most sadistic matrons ever committed to paper. His supporting characters are brilliant- three dimensional and each with their own untold story. His protagonist is one of the best- flawed, yes, both a coward and a hero. He jumps out of the pages and demands that you pay attention to him. READ IT NOW!