Sooo it's Independent bookshops week from the 18th, so I thought I'd squeeze in a post using the
#IBW2016
tag. It's a campaing ran by Books Are My Bag (
@
booksaremybag
) on Twitter, and it's a celebration of bookshops, particularly Indy bookshops and what they bring to a community. Think irreplaceable wisdom, a real human faces and lovely high street locations local to you.
So.
1. What book(s) are currently in your bag?
The Dark Half,
by Stephen King because after a string of kind of disappointing for no discernible reason adult novels, it's the best reading mojo rejuvenator. Seriously, if you've always avoided him because he's pulpy or popular or kind of in need of a harsher editor or whatever other reason you might be putting him off…STOP. He deserves every last crumb of hype and I love him.
2. What's the last great book you read?
GOD THAT'S HARD. The last book I read that was universally acknowledged as Great, as in of Established Greatness was probably
The Heart is a Lonely Hunter.
In terms of the last book I read that is the shape of Greatness to come- I'm going to go for
The Luminaries
, by Eleanor Catton, or
Station Eleven
. See next question.

3. What book have you gifted the most?
Station Eleven
by Emily St John Mandal. I'm like a vending machine where there's just one option, and that option is end of the world.

4. What's your favourite independent bookshop?
Page 45 in Nottingham. I DARE YOU to find somebody more knowledgeable and more passionate about graphic novels and comics than Stephen. His reviews (every Wednesday @Pagefortyfive) alone have cost me SOOOO MUUUCH.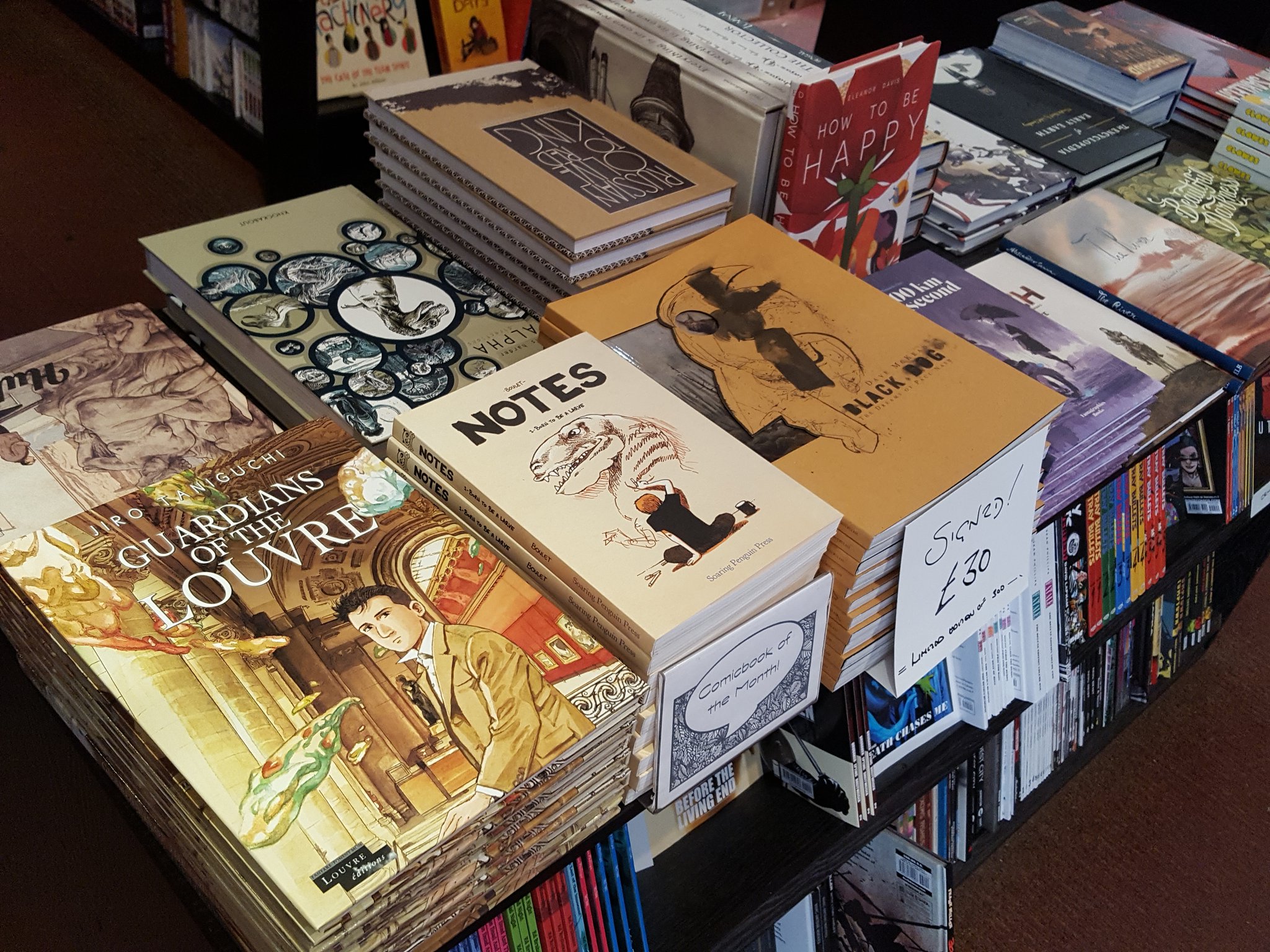 Picture source https://twitter.com/PageFortyFive/status/741003899851689988
5. What's been your favourite book recommended by a bookseller?
Stephen at Page 45 recommended a whole bunch of stuff to me when he visited the book club I attended about 2 years ago (I still attend, in fact I run it now, but he visited about 2 years ago. Probably more like 3 actually)…until then I'd never picked up even a single graphic novel. Since then I've sustained a pretty healthy habit. I remember him showing us
The Great War
by Joe Sacco, a beautiful 24 foot long panorama, a single panel that documents July 1, 1916 the first day of the Battle of the Somme. It's a crazy cross between Where's Wally and Guernica and simply a staggering piece of work. It brought me to Graphic Novels and it could not have made more of an impression.
6. What's your favourite bookshop memory?
I love Belgian comic shops. It's not a single memory, and it's not an old memory- but wandering around these cavernous 'Oh there's another room behind this curtain and I think that's a staircase over there' type shops, full to bursting with these beautiful French language books, things that will never ever be translated into English. The Belgians take their comics and their graphic novels very seriously. They are lovely things. I curse my 13 year old self for dropping French for Spanish. Not that I remembered any Spanish. Other than "Las vistas asombrosas tienes que ver" which, if I remember right is "The views are amazing you have to see them". It's not helped me read Belgian comics, I must confess.
7. What do bookshops mean to you? What do you love about them?
I love how you can just walk right in and there are all these books that you've never heard of or that you never knew existed, all with these beautiful works of art on the front. I love that you can pick them up and see how long they are. Whether it's prose or verse. You can see them lined up next to the other ones in the series, or next to the author's other stuff. You can see that that hardback you couldn't afford 7 months ago is now out in paperback and it's on offer this month so woo!, and that you forgot to check the release date but never mind because it's here. You can talk to people- booksellers, other readers- that properly know their stuff.

8. What are the books that made you? Which books have most affected or influenced you?
I know I've posted this story before but it is pretty fitting here. I remember being all on track to do a fine art degree at the age of about 17- then reading the (then new)
Harry Potter and the Half Blood Prince
for the first time. The bit where *cough cough* kills *AHEM* at the top of the somewhere (look, the internet wishes death on all spoilers as a blanket policy, so best to be safe) just totally floored me. I remember actually reeling from the realisation that everything I was feeling was the result of words. Just letters on a page, black on white. I guess that changed my course, sent me spiralling off in to literature more seriously and I've never recovered. I guess that marked the point where I stopped reading for fun and read because it was the only thing I wanted to do.
I don't know who I'd be if I had never read Harry Potter and this was probably the most pivotal moment for me.
9. What book do you recommend readers gift for Father's Day?
My dad doesn't read at all, BUT I'd say you can't go wrong with
Day of the Triffids
as a good dad book. There's action, saving the day, a good bit of OMG what would I do? A decent end of the world scenario and it's quaintly readable. Or
Station Eleven.
Because I will make everyone read it, even your dads.
10. What book is currently at the top of your TBR pile?
They're not in a literal pile- but I do have a vague "I'll get around to that eventually" list, ongoing, forever. I'd like to read
Radio Silence
pretty soon because I've heard All Of The Good Things about it and the YA wave of goodness sweeps so quickly there will be more excellent YA novels parachuting into book shops as we speak and it's easy to get buried and forget to go back and dig them out. Also
The Stand
, by Stephen King which I've been meaning to read for literally years
Arcadia
by Iain Pears and
Guardians of the Louvre
by Jiro Taniguchi.
Read this Book