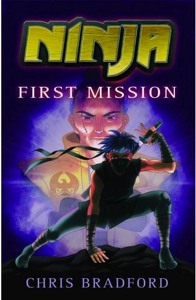 Taka, a 14 year old trainee ninja must risk his life on his first proper mission- to retrieve his Clan's sacred scrolls from their Samurai enemy, the fearsome Lord Oda. Taka has yet to complete his training fully, failing time after time to pass the final test, much to the amusement of bully Renzo. At the time the sacred scrolls are stolen, Taka and the acrobatic Cho are the only ninjas not occupied on other missions, so it falls to them to embark on this dangerous rescue attempt. Will Taka remember his training and can he learn from his mistakes? Will he earn his black belt after all?
Through the likable Taka, the book deals with coping with failure, feelings of inadequacy and learning from mistakes. Insecure and a bit down at the mouth about his constant lack of ninja skills, Taka demonstrates resourcefulness and resilience, overcoming his problems in the end. His companion Cho, is a strong, intelligent female character (not a love interest, which is refreshing) is a brave and quick-witted ninja who teaches Taka quite a lot about attitude and belief that helps him to achieve his ambitions, as well as saving his life. It's a simple to read but action rich story of justice and perseverance, set in an exotic historical location and featuring characters that are more three dimensional than your average less-than-50-pages-to-tell-a-story novel. It's fluent, well written and not over complex in terms of its language or themes.
The illustrations and layout of the book are excellent, very dyslexia friendly (as are the off white pages) and they really help the reader to imagine the action. They're not too Manga either, which I have found in some cases to deter some struggling readers. My only worry with this novel is the use of some pretty alien terms, particularly the names of weapons, which might be a bit off putting for readers of this ability. I'm also not sure how wide an appeal ninjas and samurai have at the moment...